Glass Vacuum Lifters Manufacturers and Suppliers in Germany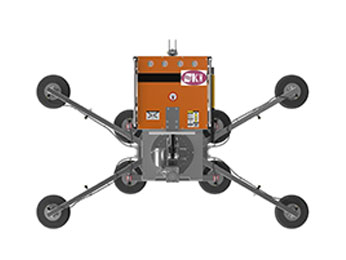 We at Shree Krishna Industries are one of the leading manufacturers and suppliers of Glass Vacuum Lifter in Germany. Our glass vacuum lifter manufacturers in Germany provide these quality components that are ideally used for both light and heavy applications. These are suitable for carrying, lifting and positioning the smooth surfaces as well as non-porous materials such as marble, tiles, glass sheets, etc.
We glass vacuum lifter suppliers in Germany give the lifter with the additional benefits as they allow much precise positioning of the objects. Our products are specially featured for the rugged construction having the stronger ability to lift and tilt the glass sheet. They work on the external pressure that is much greater than the internal pressure.
Info And Features With Us!
Glass Vacuum Lifter Manufacturers in Germany is equipment consisting of suction cups with the rubber pad and aluminium handle. It is used for lifting the glass or stuff having a flat non porous surface.
Key Features of Glass Lifter
Improved The Working Condition
Enhances And Speeds Up Installation Rate
Reduces Cost Of Labor
Prevents The Risk Of Damage
Meets All Safety Standards
Vacuum devices for glass sheets handling with 4 to 24 vacuum cups and motorized rotation and tilting. Electric vacuum pump.
Voltage 220 or 380 V.
Independent vacuum pump and vacuum tank to guarantee the glass grip even in case of lack of the electrical power. Double safety circuit. Acoustic and luminous alarm.
Button commands with 5 m length cable
Technical Details of Glass Vacuum Lifter
| Model | N° Cups | Capacity Kg |
| --- | --- | --- |
| 4C-SKI – GL | 4 | 360 |
| 6C-SKI- GL | 6 | 540 |
| 8C-SKI-GL | 8 | 720 |
| 10C-SKI-GL | 10 | 900 |
| 12C-SKI-GL | 12 | 1080 |
| 14C-SKI-GL | 14 | 1260 |
| 16C-SKI-GL | 16 | 1440 |
For Higher sizes kindly contact us. We can provide you with a customized solution.